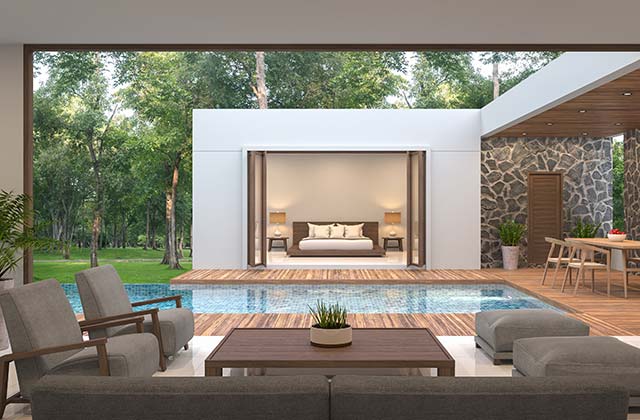 Ah, the joys of the outdoors. Fresh air, sunshine, the melodies of songbirds … and a whole lot of conscientious yard maintenance to go with them.
Design a gathering place. Even if you don't have a ton of money for a big deck or a pool, you can design a very attractive sitting area on your front porch or in your back yard that will make the perfect place to spend alone time or entertain guests. With the huge variety of fabricated concrete paving stones available now, you can create whatever size space you want cheaply and beautifully. Add some planters and some reasonably priced lawn furniture, and maybe a fire pit, and you'll have yourself the kind of spot friends and family want to come back to.
Color it up. Hanging baskets and large bunches of either annual or perennial flowers make a beautiful area that much more so. Use a variety of flower sizes and colors to create a splash of natural beauty all around the yard.
Sound it out. Looking to add a little class? Place some Bluetooth speakers around the sitting area and pipe in music from your phone. It's easy, simple and, nowadays, increasingly inexpensive.
With a little attention to detail, outdoor living can add a lot of joy to your homeownership experience, and lot of value to your property.