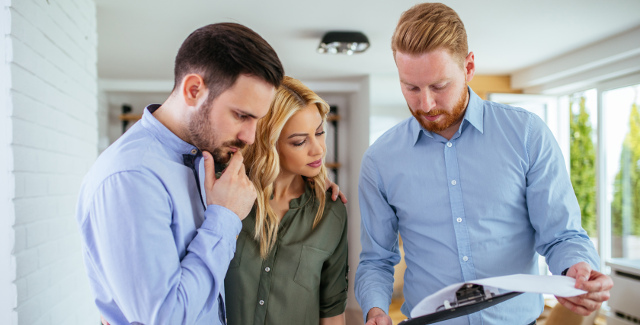 Buying a home for the first time can be both the most thrilling and most stressful thing a young couple can do. Along with the anticipation, buying a house can come with a lot of bumps for newbies.
Financing. First-time homebuyers may encounter a bit of sticker shock when they sit down with a banker and look at real numbers. Insurance, taxes, association fees and the rapidly increasing home prices in many markets can leave a new homebuyer's head swimming. It's important that newcomers to the market talk with their lender about each major component of their monthly housing payment so that they understand exactly what they're getting into.
Too many choices. The sheer number of homes in many markets can leave first-timers very unsure of where they should look or what kinds of homes they should consider. Sitting down and writing a three-column list—Must Have, Would Like to Have and Must Not Have—can go a long way, with a budget, in narrowing down the field of all those potential homes.
Ask lots of questions. Simply don't know something? Don't hesitate to ask good questions. Real estate agents, friends, lenders, parents, neighbors and more-experienced coworkers all can offer helpful advice to aid in the homebuying journey.