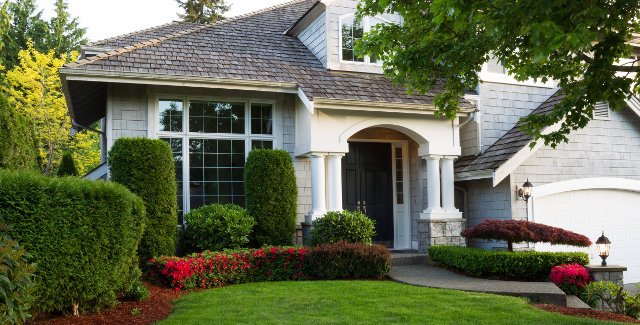 When it comes to key items that add curb appeal and overall desirability to your home, landscaping your yard with some modern touches can go a long way. So what are some of the latest trends that you can do, even on a budget? Try these:
Put it in stone. Whether it's a walkway with wide stone pavers, a retaining wall made of fashionable stone blocks or decorative boulders surrounded by low-lying groundcover, you should employ stone in your next outdoor improvement project. Using stone connotes a sense of solidness and permanence to your projects that's hard to beat, and it's low-maintenance, to boot.
The pot's got it. Decorative pots and planters, tastefully placed near entryways and walkways, provides a sophisticated touch that's easy to employ and maintain. Decorative planters come in a huge variety of shapes and sizes. Try low rectangles or tall squares for a change from traditional round pots and fill them with brightly colored annuals and perennials to provide a good variety of foliage that will bloom at different times throughout the growing season.
Go natural. More and more people are opting for tall natural grasses, tall evergreens and other shrubbery that provides a more natural look to your greenery.
Iron maven. Simple wrought iron pieces, such as a simple gate or short bit of fence, placed at the end of a walkway, provides art and separation from the street at the same time. The iron pieces will last for years and years while providing a timeless accoutrement to your yard.
Whatever bit of sprucing you decide to do for your yard, be sure to take a look around your neighborhood for good ideas, too. The best look for your yard might have been tried by someone just one street over, and you can ask them how they did it while getting to know a neighbor at the same time!