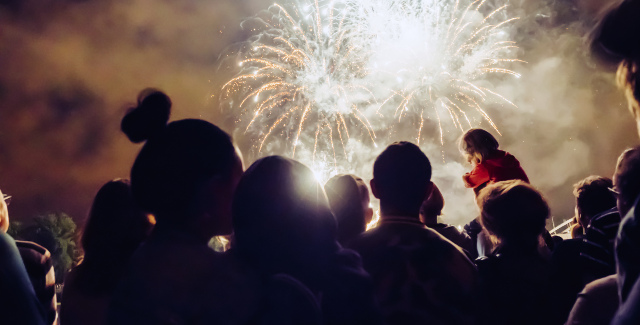 Everyone knows the typical 4th of July routine: Bugs, traffic and a long walk to your sitting area in the park followed by cranky kids and a late night drive back home. Oh yeah, there are usually some fireworks.
This year, why not start a new tradition and have a 4th of July celebration at home? You may still want to do the fireworks, sure. But maybe, just maybe, the party you throw at home will be so fun, it'll make the fireworks fuss worth it--or not necessary at all.
So call up some friends and family, have them bring camp chairs and some cold drinks, and get the party started!
Food. Of course, food. Lots of it. Fresh fruit, ice cream, popsicles, red-white-and-blue gelatin parfaits--anything cold and fun that says, "summer."
Bonfire. If you have a fire pit, either raised or in-ground, lighter 'er up and get the hot dogs and marshmallows roastin'. Nothing makes a party feel like a summer party like a campfire.
Music. It may sound corny, but pipe in some good old-fashioned patriotic tunes on a Bluetooth speaker. It makes things feel more authentic. Trust us on this one.
Water fun. Even if you don't step outside your yards, there's plenty of water fun to be had. Squirt guns (big and small), a sprinkler, a Slip-'N-Slide or just a hose with a spray attachment and mischievous kid holding it can make for a great time. And it'll keep everyone cool.
So get creative. Let Independence Day this year's celebration be the first 4th in a long time that you spent the day at home having fun instead of fighting the crowds!