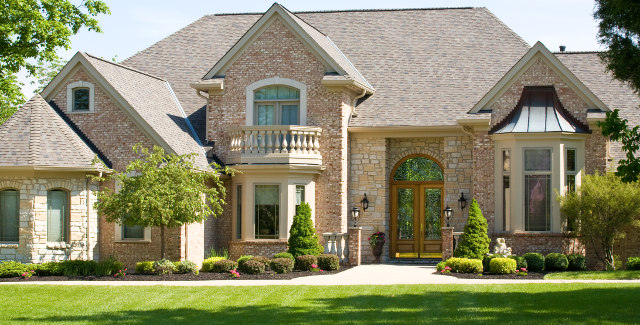 You can't fight it any longer—you have to do something with that yard. But money's tight, and you have other things to do. No worries: You can spruce up that yard without busting the bank. Here are 10 ideas to get you going:

So mulch to do. A few bags (or a yard or two) of hardwood mulch spread over your flower beds ads a look of uniformity to any yard. Mulch keeps weeds down and moisture in, especially useful in hot climates like the South.
Going to (re)seed. Bare and thin spots can be repaired with all-in-one seed/fertilizer/mulch products at your local hardware store. If you prefer, you can also scatter seed by itself and cover it with some straw, available in bales in many stores.
Riding the edge. If you want to add some class to your flower beds, try edging with either prefabricated, decorative concrete blocks or plain old plastic edging. Both are inexpensive and will provide a nice sharp barrier for your beds.
No, the other edges. Also, make sure the edges of your lawn stay clean and well-trimmed by using an edger or weed trimmer to cut back grass to a sharp, uniform border.
Color me up. Plant seasonal annuals in visible spots, making sure to note which varieties are able to thrive in full or partial sun, whichever the case may be.
Shrub it off. If you can think a little bit ahead of time, plant flowering shrubs in highly visible spots, and ones that will bloom at various times of the season. Do a web search for your local ag extension service for helpful tips on the best shrubbery for your area.
Water well. If you water your lawn, do it for longer increments, less often. You should aim for ½-inch of water accumulation each time you water (about 30 minutes per station for most standard household sprinkler systems). That way, the water will settle in while you save water by not sprinkling as often.
Pots (no pans). A few expertly placed pots with either small trees, flowers or small shrubs can add a touch of class and elegance to any walkway. Consider boxes or other shapes besides round.
Flower boxes. For a bit of retro-flair, consider installing flower boxes below your front windows, if you have them. They can last for years, and the constant color in your line of sight will add joy to your day!
Keep your grass mowed. A well-trimmed lawn is a healthy lawn. It promotes the growth of good grass, driving out bad weeds, and makes for a better-looking yard all around.