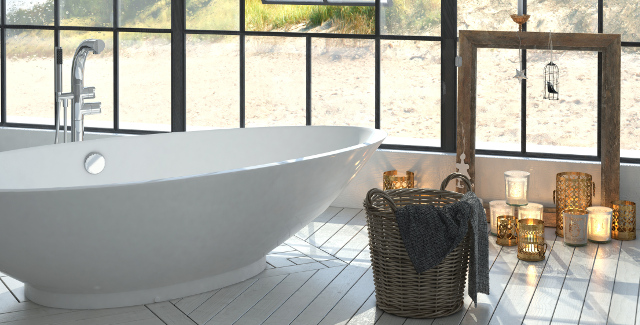 If you want a few words to describe the latest bathroom design trends, think: bigger, bolder and whiter.
Dominating a lot of the ideas from many designers and remodelers is the concept of very smooth and very white: marble floors, showers and countertops. The look of these bathrooms is sheer, smooth and open.
If all-white is too boring for you, many designers also are going for large, bold tiles and tile patterns. Grays and earth tones are popular choices for many people remodeling these days, and it seems that the bigger the tile for walls and floors, the better. And forget squares—triangular shapes, tall rectangles and patterned veneers are winning the day now.
Add to all that boldness some very, um, interesting designs for bathtubs. Low-lying built-ins? Not so much. These tubs are tall, uniquely shaped and stand-alone. Ovals, rounds and even square tubs are making their way into bathrooms now, and just the tall sides alone make for a very modern look. Even retro-mod brass is making a comeback (Let's party like it's 1899!).
Unless you do all the installation yourself (and you can, with a few pointers), none of this comes cheap, mind you. But with bathrooms commanding so much of a person's time and attention, the move to some of these new designs could very well be worth your time and expense.