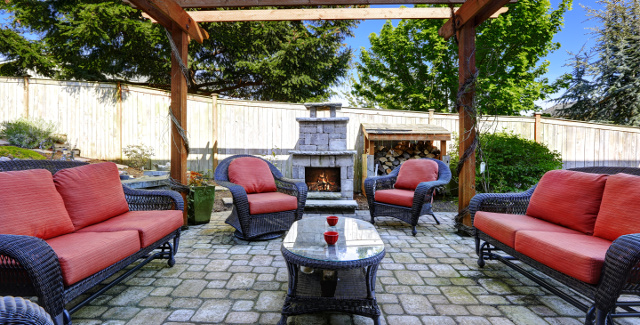 Nothing feels better after a long summer sweating in the heat than a brisk fall evening under the stars with a blanket and some warm drinks to set the mood. No bugs, cool air … who needs summer, anyhow?
One of the best ways to enjoy the evening is to sit around a nice bonfire in your very own firepit. It doesn't have to be fancy, either—a portable unit, available at most hardware stores for about $50—will do the trick nicely. A small bundle of firewood, using sticks from the yard for kindling, can keep a good blaze going for an hour or more. If you have a patio furniture to complement it, fantastic, but some camp chairs or a couple of Adirondacks will do the trick, as well. And make sure you have some metal hot dog/marshmallow sticks for the kids … well, the adults, too. Food roasted over the fire, even if it has little by way of nutrients, is always a hit.
In addition, some nice music by way of your phone and a Bluetooth speaker is an easy way to really add some ambience to an otherwise pedestrian night. A little Spotify, a little jazz, some nice beverage options, and suddenly you have a nice party going.
Finally, don't forget the blankets, sweatshirts and jackets. Nothing makes people want to go in faster than suddenly getting cold, even with a fire. Having the right gear keeps the party going longer!