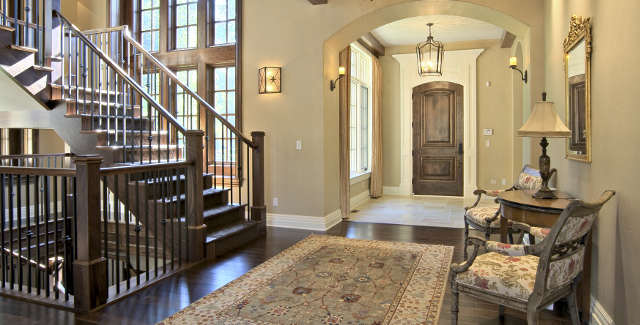 The entryway to your home says a lot about what people can expect when they venture farther in—so make it the very best you can!
True, most entryways, especially in older homes, tend to be small. No matter. If you're talking about welcoming guests or simply making your entryway a welcoming place for your everyday use, here are some tips:
Light it up. Nothing says "go away" faster than a dark or dimly-lit entryway. If you have a spacious entrance area with lots of window space and a large overhead fixture or chandelier, this likely isn't an issue for you. But if you don't, make sure to install the maximum-wattage bulb in the overhead fixture, or consider adding a floor lamp or two. It'll make a world of difference.
Book it. Books—intellectual value aside—add a tone of warmth and comfort to any setting, entryways included. Adding a freestanding bookshelf is inexpensive and offers a good conversation piece to boot.
Take your coat? For homes with minimal closet space or with closets a couple rooms away, investing in a coat stand or well-placed wall hooks saves time and space for you and your visitors. Centrally locating your coats and jackets minimizes "where's my coat?" search times for everyone.
Welcome mat. Get one. 'Nuff said.