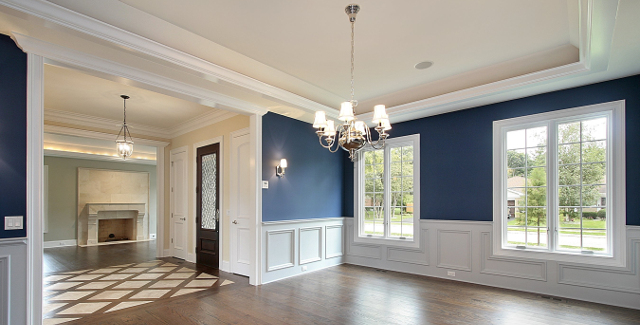 They say that there's no accounting for taste, and in a sense, that's true—but you shouldn't allow yourself such a long leash when it comes to choosing the right paint colors for your house.
The verbiage here is key: The right colors for your house. What do you want the room to say—"relaxation" or "activity" or "hello"? And how will it all tie together?
Trends come and go, but for rooms in which you spend a lot of time, it's hard to beat neutrals: grays, beiges, off-whites and the like. The past few years have seen a resurgence in the popularity of gray in many shades, even some once considered far too dark and enclosing. The fantastic thing about gray is that not only can it be brightened up or darkened, but it blends with so many other things and still manages to hold its own in the overall look of the room. It's versatile, it's strong, it lasts a long time and you can decorate it around it. Same goes for all neutrals, which is why their status as a go-to look endures.
Bolder colors can make a room pop like crazy, but before you dive into a full room of Egg Yolk, Roasted Pumpkin or Vegas Green, remember one thing: You'd better have the décor to support them. Of course, that doesn't mean a full complement of furniture and accessories, but it does mean what you have (or will have) in the room shouldn't clash with the walls and ceiling (and speaking of ceilings, whatever you paint the walls, paint the ceiling two or three shades lighter—it makes the walls look higher).
Go with what you like. Go with what makes you feel good. Go with something bold and different. Yes, yes and yes. Just make sure that when you're done, you're not regretting what all that hard work did. You are going to have it all over your walls for a while!