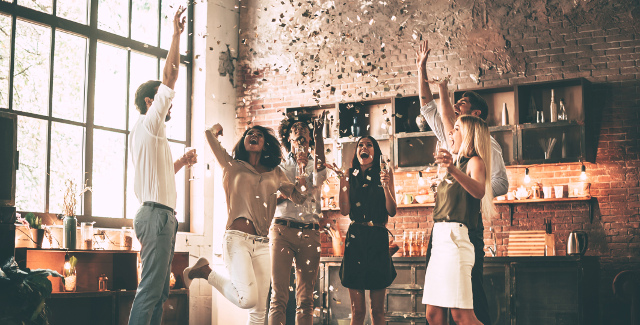 It's time to celebrate a new year (and a new Roaring 20s)! And if something's worth celebrating, it's worth doing with friends. So this New Year's Eve, do it in unique style—with your closest pals, but with an eye on high points from the past year and a brighter future.

Lessons Learned. So what did you learn this past year? What would you change? What would you do again if you could? And be honest (you're with friends). Did you do what you wanted to do? And if not, how will you change that this coming year?
Goals. And speaking of doing things in the coming year, what are your goals, anyway? Do you want a different home? A bigger home? A house instead of an apartment? A new job? A look for yourself or your house? Whatever it is, do yourself a favor and write it down. That's right—write it down. And one great way to start is to create a vision board with your friends.
The Vision Board. You can do this pretty much any way you want, but get a whiteboard, put it up on the wall or an easel and write down your goals. And more than that, write down what you're going to do each day to achieve that goal.
Be specific. Ask the other people in the room for their feedback, too. They know you, and you know them. What will get you to those goals and what will likely hold you back? Write it all, until your hand hurts, if necessary. Take photos of what you've written, erase, and start over, if necessary.
Once everyone has had their say, share your pics of the boards and hold each other to what you wrote! Then you'll have something to remember all year long in 2020 that will actually do you some good!