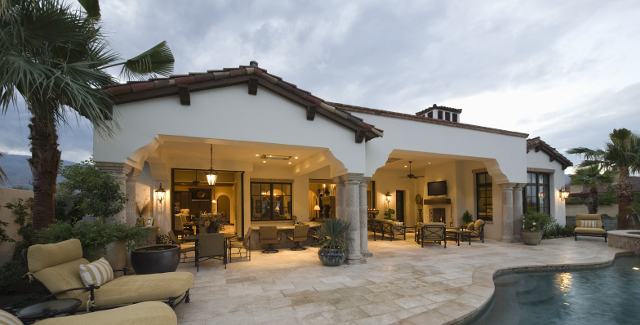 Now that the weather is basically, oh … perfect for outdoor activities, why not take watching the next big football game outside for a little extra fun?
Equipment. So, maybe you're not exactly set up for the outdoor television event of the season. That's OK. If your TV has legs, you're in business. First off, find an extension cord that will get your TV to the outdoor table, bench or stand of your choice. Next, if you have cable TV, get a coaxial cable that will reach, as well. If you have an antenna or you hook up via Wi-Fi, your job just got easier.
As for sound, the TV's native sound might be good enough, or you may want to bring that soundbar and subwoofer outside, which is done easily enough, as long as you have somewhere to set them safely.
Food. As for eats, set up a buffet that includes grilled meat: kabobs, nacho meat and veggies, burgers, hot dogs— whatever gets the olfactory senses jumping and adding to the game time experience. Keep it stocked next to a cooler full of drinks and within walking distance, without making anyone who's grabbing seconds walk in front of the TV.
Fan gear. And, of course, drape your patio or backyard trees with your favorite team's colors and mascots. Getting into the spirit means team regalia, so put up everything you've got.
Getting outside while the getting's good is a perfect way to keep the team spirit alive. So go!